Track of the Week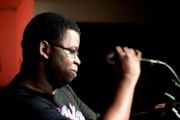 PLAY
Brighter Day
5:04 (306 plays)
Featuring emaé, Zero Basement & CAS METAH). A powerful statement that speaks to the shared hardships of life with honest, personal tales of hope
Turn Me Up!
PREVIOUS TRACKS OF THE WEEK
PLAY

5:04 (816 plays)

? Lonely Lolita ? Lyrics: You took a plane from Arizona Left your girl behind You didn't love her, she wished you did Too much trouble on that...

PLAY

5:04 (245 plays)

Donye'a Takes us on a trip in search of the love of his life. Just when he has her in his grasp, he soon realized that maybe the entire chase might...

PLAY

5:04 (152 plays)

'Tomorrow Know's' taken from Jupiter's carnivals E.P. Copyright controlled by Jupiter's Carnival. ©Jupiters Carnival Buy this track here:...