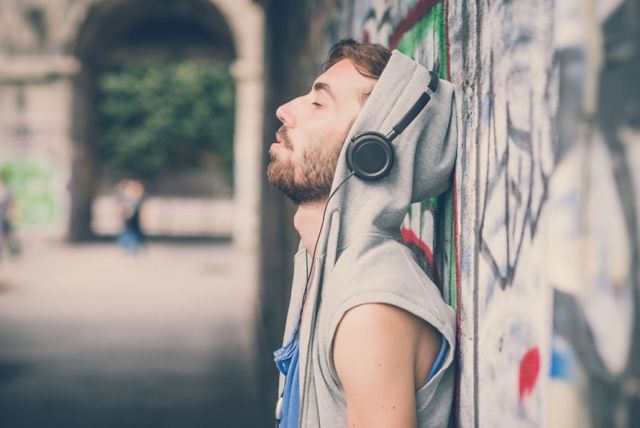 It all started with a bassline...but then, how could it not?
Roughly age 14, my parents bought a new gospel CD called "Time for Healing" by Sounds of Blackness. At that age, I was in my early stages of discovering hiphop and dance music, so their excitement over this new CD was met with a nonchalant shrug...that is, until I read the tracklist. Features from Craig Mack & Salt n Pepa? "Ok...now we're talking", I thought.
At last, track 4 came on - "Hold on (Don't let go)"...the Salt n Pepa track. Soon as I heard the drums come in, my head jerked towards the speaker in anticipation. Then the bassline happened! Good Lord, that bassline!!! When combined with Ann Nesby's gorgeous vocals over the choir's harmonies & Salt n Pepa's rhymes...I swear something happened to me. Eyes closed, face scrunched up like I'd just smelt something disgusting, mouth grinning from ear to ear as my head nodded furiously. I was in heaven. As if for one moment in my teenage angst-ridden life, I'd been teleported to another space and time where nothing mattered but the music. A world I could escape to in which only Ann Nesby and Salt n Pepa understood my struggle.
No-one else in my family felt the song the way I did, and my frequent requests for the repeat button were met with groans as the family favourite was a different song entirely. Unknown to me, "Hold on (Don't let go)" was to shape the way I related with music.
From that day on, some of my favourite songs became the songs that recaptured that feeling for me. Songs like
- Mos Def's "Umi Says" with it's haunting groove and stream-of-consciousness melodies
- Pete Rock & CL Smooth "T.R.O.Y." and THAT sax riff
- "Golden Lady" where 20 seconds in, you can tell Stevie Wonder's about to tap into something magical
- the irresistible funk in "Red Alert" by Basement Jaxx
- Nas' "The world is yours" with the bittersweet imagery in Nas' rhymes floating on the wistful piano chords of Pete Rock's beat
- The title track from "Miseducation of Lauryn Hill" with it's gospel feel, crackling vinyl and the incredible Lauryn laying her soul bare on the track!!!
- Sia - Little Man (Exemen remix) - where the drop where Sia's vocals first comes in kills me everytime.
From my list, you might be forgiven "Oh my days, not another 90's baby crying about music not feeling like it used to." Yet over the last few years, I can list artists like Disclosure, Kendrick Lamar, Janelle Monae, Justin Timberlake, Rudimental, Chase n Status, and more as artists who still create that feeling for me. There's something powerful and timeless about artists of any genre who remember what made them fall in love with the music and capturing that.
If you have any kind of interest in music, try engaging with your favourite songs in that way. Find songs that teleport you out of the drudgery of daily life to a world where the only thing that matters is the music and nothing else. Fall in love with music again.
Join our mailing list and we'll let you know when we publish something new