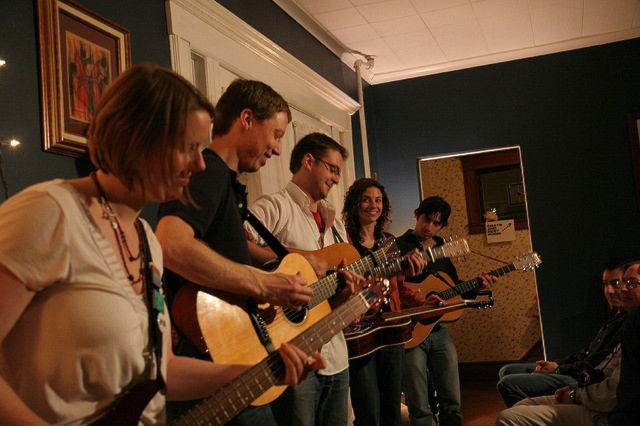 Why are house concerts increasing in popularity?
Perhaps it has something to do with the immersive and intimate experience they offer.
A bar or a club can be a fun place to gather with friends, have a few drinks and enjoy some music, but these types of environments have a lot of distractions built right in to them. Onlookers often try to talk over the music, and not everyone is there for the concert as much as they are for social reasons.
By contrast, a home provides a setting for artists and fans alike to be unified in the creative experience. Everybody is there for the same reason.
Here are some of the other reasons more and more fans are opting to check out the artists they love in houses everywhere.

It Allows For Interaction
House concerts give you - the fan - direct access to your favorite artists.
In a loud and crowded bar environment, while you may get to enjoy the music, you don't necessarily have the chance to talk with the artists onstage. You may not get to ask about or learn what went into the songs you know and love so much.
These types of interactions can and do take place at house concerts. Concert-hall etiquette is expected in house concert situations, which means the audience is single-minded in what they hope to experience.

It Allows You To Listen Without Interruption
House concert etiquette generally requires the audience to treat the artist with the utmost respect. Talking over the music is a no-no, as a house concert isn't merely a house party with background music.
As a fan, you are offered the opportunity to really listen to and appreciate the nuances of the artist and every note of their music. You can relate to their stories, share their feelings and sentiments, and engross yourself in their world for a while.
At a house concert, the artist is the focus. There aren't any other distractions that take away from the music.

It Allows For A Relaxed Environment
Artists have to work with the venues they play at to come up with a suitable arrangement. However, they still have very little control over the atmosphere, the environment or the logistics.
Many bars and clubs have TVs, DJs, arcade games, and other diversions. Furthermore, artists may be required to go on earlier or later contingent on the venue's - rather than the fan's - schedule or preferences.
Many fans love house concerts because the start times are early (and on-time), and the floors are carpeted (and not sticky). And because the purpose of a home show is to get engrossed in the music, it offers them the chance to forget their everyday troubles too.

It Allows The Artist To Be Rewarded For Their Work
Fans like to be able to support their favorite artists. The problem is that there are often middlemen taking a cut, and that diminishes the fan's benevolence.
A fan may not even be aware of how much (or sometimes how little) of their money goes to the artist when they purchase an album or a concert ticket, though this really depends on the situation.
With house concerts however, artists usually take home most of the revenue earned. Because this is a better arrangement for artists, they can worry less about the business details and really focus on giving their best to their fans.

Concluding Thoughts
Has your interest been piqued? Would you like to experience a house concert for yourself?
Fortunately, there are great tools like Sofar Sounds that allow you to find house concerts in your locality. You get to be an insider on all of the secret, intimate gigs that are happening; and some of them might be closer to your home than you think!
At the end of the day, house concerts are all about the experience; for the artist and the fan alike. If you've never been to a house concert before, you'll be amazed at how it enables you to enjoy music like nothing else.

Photo courtesy of Chris Chin used under Creative Commons.
Join our mailing list and we'll let you know when we publish something new