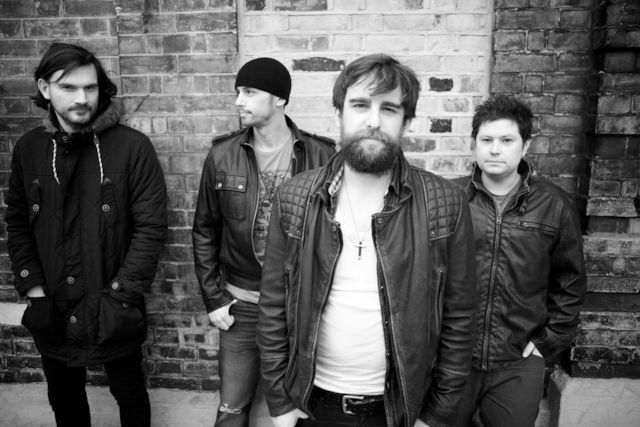 We caught up with the guys from Headlight for a chat!

James Rayward (JR) – Lead Vocals and Rhythm Guitar / Matt Wells (MW) – Lead Guitars and Synths / Mike Dillon (MD) – Bass and Backing Vocals / Matt Littlewood (ML) – Drums and Percussion.

Ok so let's kick off by introducing you to everyone, can you all tell me a bit about yourself and your role in the band?JR - I'm James, I do the lead vocals and rhythm guitar.
MW - I'm Matt, I play lead guitar.
JR - We also have Mike Dillon, our Bassist and expert backing vocalist.
MW - Yeah, also, there's Matt Littlewood who plays drums, loses equipment and is the designated tea maker.
How would you describe your sound to someone who hasn't heard your music before?JR - Maybe a bit like the Kings of Leon.
MW - Yeah that and a bit like an early U2 sound and or The Gaslight Anthem.
Do you feel that the music you listened to growing up has influenced your current sound?JR - Definitely!
MW - From what I can remember I've always been listening to guitar based music, that's stuck really. Listening to classics like The Beatles, Hendrix, Steve Ray Vaughan and the like got me into it.
Has your music taste changed as you have gotten older? Who do you listen to these days?MW - I guess a bit, but between us we like all sorts. I'm into U2, Dredg, that kind of stuff.
JR - Yeah a bit, it's good to be open with it, gives you more ideas. Each of us like different parts, so it's comes together. I like the Kasabian and Kings of Leon sounds, Mike loves The Weeks and Littlewood is a big Phonics fan, amongst others…
What is your process for writing a song?JR - That depends really, me and Matt work well together on that one, normally either of us would have some idea of a chord progression or a lyric line and then we try and run with that.
MW - Yeah, for me I'll be messing about with the music first, then the words will follow. Having an experience or theme makes it a bit easier, but that's the best part of it for me. Trying to arrange and construct the music and lyrics and how they sit to form a tune – I like nothing more than that!
Tell us a bit about your new single Berlin!MW - Ha, I wrote that whilst I was travelling in India! I know, it's a bit random, but I'd been speaking to a few German travelers I'd met out there. They started telling me about Berlin and we got talking about its history and how now it's this cool, modern and dynamic city which had grown out of the ruins, kind of united back then by the wall coming down. I thought that and the meaning it represented was quite cool. So, a dodgy Indian bus ride later with a melody I'd started to play over in my head, I had a rough track and music down.
How do you know when a song is ready to be played to your fans? Are you constantly tweaking things? Or do you just know when it's ready?JR - I think we're always trying to improve our sound. We always tinker with things to try and make the tunes better. It's a good thing as we keep coming up with ideas to make the songs sound or fit better, and as a band we all click well and give off our own ideas.
MW - Yeah, they're jammed out a lot before we put a tune in our set. Making sure it's tight and that we're all cool with it is important. We really appreciate the feedback we get from the people who take the time to listen, we always take it on board.
What have the highs been in your music career so far?JR - Playing some pretty big UK festivals and supporting a Brit Award Winner was pretty cool! Hearing people shouting out our name – I love performing and the crowds! The lows…
MW - Ha, one gig springs to mind where by the end of the set, the drum kit, which for once had nothing to do with our drummer, just fell apart around him! I also remember the time a promoter tried to charge us a load of money for playing at their venue. It took me 3 hours to get there, we had no time to sound check, and 2 minutes after we'd finished he was in my face demanding all this money! Which he didn't mention when we booked it! None of the bands bothered to bring anyone, so we played to our lot and that was it. After him holding us back, I missed the last train home! But I guess we've all been there on that one...
Ok now onto more serious stuff, name one of your guilty pleasures?JR - Rumour has it that Littlewood, apart from loving The Phonics is an avid Spice Girls fan...
What product would you hate to have your music licensed for?MW - Ha, 'Just For Men' hair loss, but at the rate I'm going...
JR - There's the reason for the beanies and hats he wears!
Who is the strangest member of the band and why?JR - Er...
MW - Easy. James. Sorry mate, but he sent me a picture of a purple marrow the other day, just because he could. Need I say more?
JR - Yeah, I did do that.
Would you say any of you are different on stage than you are off stage in any way?MW - James isn't. Mike the bass player's a bit of a mentalist too. But honestly, I think we all just love playing, it's a really good feeling when you absolute nail a tune live. That's why we put in the studio time, the 10 hour recording days and juggle families and lives around it!
JR - Ha, the only other thing to that is that our drummer forgets things off stage, like his kit, his keys, his phone, his kit - again. He also forgets thing on stage, like when he needs to hit his kit. Sorry Littlewood!
What would you say you are trying to achieve as a band? What would be a dream come true?JR - World domination!
MW - Ha, I guess just trying to put our sounds out there and to hopefully be recognized doing it. In an ideal world, we'd obviously love to be able to showcase it on a huge stage and do it for a living, but getting our own albums out there is something we really want to do.
Finally, what is one thing that you would want someone hearing your music to remember about you?JR - I'd like to think it'd be that their passion in their music is clear to hear, that their sounds are original, catchy and cool to listen to.
Find out more about Headlight and listen to their new single 'Berlin' below:
Join our mailing list and we'll let you know when we publish something new