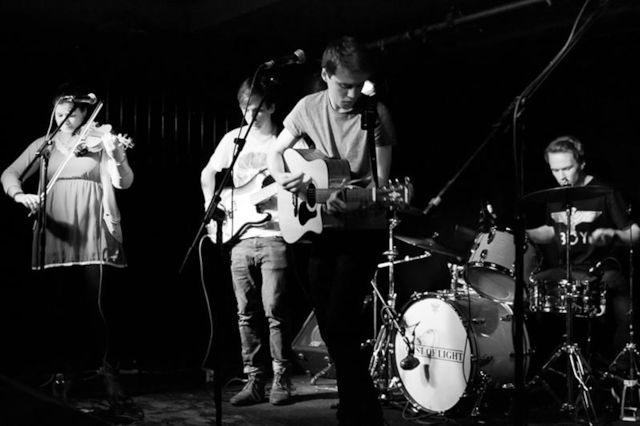 In recent years, there's been an incredible resurgence in Americana and folk music. Bands like Mumford & Sons and the Lumineers have paved the way for a popular reconnection with the lost genre. Now, it's debatable whether or not these bands actually embrace the original ideals of folk, but they are here to stay. Cast of Light is a rising band from the United Kingdom and their debut EP is 'Brighter Skies'. They're a folk outfit with a pop flair that embraces new-folk stylings.
'Take Me Home' is one of the singles from 'Brighter Skies'. The track is a beautiful and complex tune. Immediately, the instrumentation draws the listener in with elegant usage of violin and acoustic composition. The violin actually defines the performance, creating a soundscape that separates Cast of Light from the myriad of other indie folk pop acts.
Lyrically, Cast of Light's music is quite good. 'Take Me Home' embraces pop elements with a very traditional influence. The outfit doesn't lose track of what makes this style of folk music so appealing: the Rolling Thunder Revue-esque sound balances on the line between contemporary and classic folk rock.
The production of 'Take Me Home' is as strong as the performance. The mixed and mastered product feels authentic and complete. Though the clash of instruments is complex, it also feels seamless. It's a commendable feat, especially when the percussion is as intense as it is on 'Take Me Home'. (Seriously, that drummer is really on the ball!)
'Take Me Home' is a promising indicator for the rest of 'Brighter Skies'. This take on modern folk music is currently 'in'. It's a relevant sound that Cast of Light has adopted into their own blend. They're already receiving pretty significant airplay as well. The BBC has shown interest in their work, and they've been headlining sold out shows in their local area. In fact, this is the kind of band that makes the most sense in a live setting: what you hear is what you get. Cast of Light doesn't hide behind anything artificial. It's genuine folk with an infectiously fun groove.
Listen to 'Take Me Home' below, pick up a copy of Brighter Skies on iTunes, and find out more about Cast of Light!
Join our mailing list and we'll let you know when we publish something new