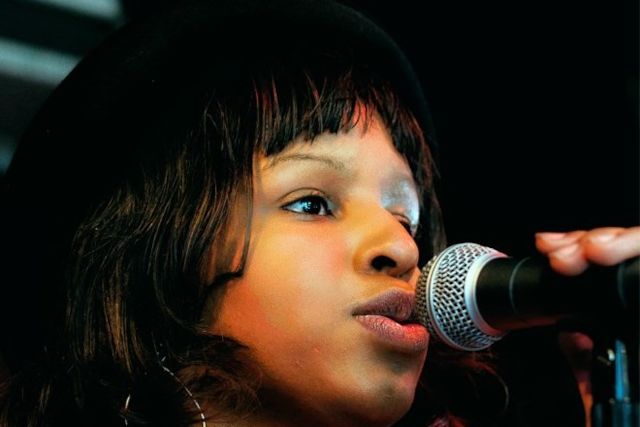 Last July, the rising singer songwriter Kenesha released her debut EP, 'Eyes Wide Open'. The single off of that record, 'Hey I', was accompanied with a music video and ultimately placed in the top one hundred tracks out of five thousand in the Ditto Music Austin Showcase as well as receiving international airplay on the likes of Skope Radio (USA) and Croydon Radio (UK). The song is a folksy, atmospheric number with heavy pop influence. Let's delve into the track.
'Hey I' boasts rather simplistic instrumentation; Kenesha is backed by brief back up vocals and acoustic guitar. Sonically, the soundscape is appealing and suits Kenesha's vocal style remarkably well. The song's percussion is intriguing, too. It's settled far back into the mix, peeking through now and again with accentuating cajon beats. Guitarist Jiri Novirity provides an exemplary performance, one that bounces back and forth with Jamie Shaw's percussion beautifully.
The production quality of 'Hey I' is most certainly worth touching on. It's one of those tracks that shines brightly on a high quality sound system. The acoustic guitar was miced perfectly; it's elegant timbre contrasts Kenesha wonderfully. The percussion is so subdued that standard sound systems or earbuds may not pick it up, but for those who can listen to 'Hey I' with better sound, it's a treat. Kenesha's vocals are very dry, meaning the studio work didn't incorporate any reverb or effects on her. This tactic is used properly, and the song benefits from it. Hearing Kenesha unburdened by potential effects is refreshing and exhibits her raw talent.
As aforementioned, 'Hey I' is essentially a pop song with an acoustic, soulful flair. The lyricism is catchy and memorable. So often similar vocalists utilize extensive aid penning songs like this. 'Hey I' was written, sung and arranged by Kenesha, though, which makes it all the more impressive. 'The heat from your heart will keep you warm; don't fight your mind', Kenesha sings as the acoustic guitar and cajon cascade over the production.
'Hey I' is an exceptional soul track with heavy pop and folk influence. Above all, the artistic direction of the instrumentation is spot on and incredibly rewarding. It's a single that masterfully balances between commercial catchiness and insightful depth, thus painting Kenesha as a promising new artist in the independent scene.
Listen to 'Hey I' below and find out more about Kenesha!
Join our mailing list and we'll let you know when we publish something new