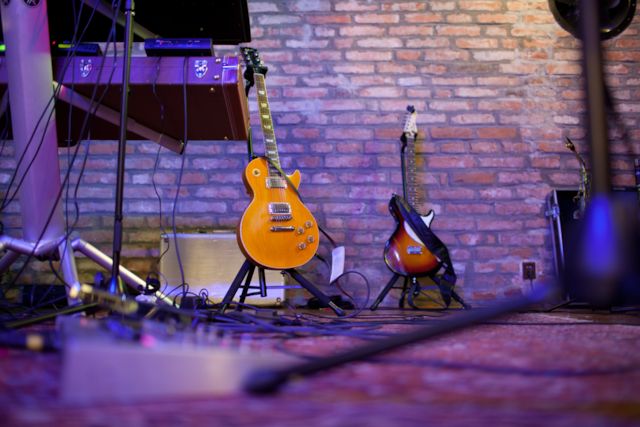 Let me tell you about Travis.
Travis has spent hours on end for the last 7 months, crafting and fine-tuning kick-ass songs, backed by entertaining and clever visuals. He rushes to social media, finally ready to upload, nay, unleash them on the world; he can almost hear their collective minds being blown already. The upload finally completes and oh my God, he...
...then spends the next few humiliating days and weeks looking at his languid Soundcloud/YouTube/Facebook analytics, which have turned into the equivalent of watching paint dry...
If you're an up-and-coming artist, the above is not so far-fetched, am I right? It certainly feels like the most pointless Sisyphean task for new artists to gain any sort of traction in the already overcrowded world of new music.
Yet I'm sure if we all remove our Grinch masks for a second, I'm sure we can actually think of independent acts that have seemingly broken this curse, so many that we can't really get away with calling it a fluke. So what kind of magic pixie dust have they sprinkled over their music that has made the masses take notice? How can we do the same, so our Soundcloud hits look more like the hottest girl at the party and less like the underage kid getting turned away at the door?
In this article, we're going to discuss how exactly we go about getting our music heard in 2017; strategies for cutting through the noise, and changes we need to make in our approach in order to move our careers forward.
Do what others won't do, to get where they can't go
Kevin Durant is often attributed as saying "Hard work beats talent if talent doesn't work hard". A lot of people are waiting around for things to happen, for the universe to thank them for their talent by dropping some mythical lucky break.
Here's the real deal though. Behind every so-called "lucky break" is hours and days and months and years of hard work, practice, networking, gigging, released projects, researching, working on SEO, working on branding and image...and then someone happened to notice their hard work and luck finally kicked in. Don't just hope and pray for someone to find you; you have to choose to be seen!
"That sounds like way too much work", I hear you cry!
If you've ever said that to yourself or to others, stop for a moment, because this might be just the thing you need to propel your music career to the next level.
Yes, it's somewhat counterintuitive, but sometimes that 3-for-1 album sale, 10-day 20-show tour schedule, 365-day guerrilla radio campaign or other creative marketing idea is what you need to draw more attention to your craft.
Just look at the popular phenomenon of video songs popularised by a duo like Pomplamoose, gaining them over 100 million YouTube views. Does it take time and effort to do a video the way they do? Ya damn right it does!
But sometimes that's exactly why an audience cared enough to share it in the first place.
We all have quirks – take advantage of yours
Many artists struggle with the balance between creating expressive, artsy, professional music and creating music that reaches a broad audience. Yet in recent years, many artists have found ways to present their great music in uniquely quirky ways that have caught the eye of a wider audience.
The play-dancing style of Lindsey Stirling is one example, clocking over 1 billion YouTube views! Hiatus Kaiyote, a future-soul act from Australia have leveraged the paradox between the tribal punky look of their frontwoman Nai Palm and their Stevie Wonder-meets-Herbie Hancock-meets-Flying Lotus sound into something truly unique. OK Go's hooky-songs-meets-fun-music-video concepts really showed that amazing musicians can create art and still connect with a wide audience by simply leveraging their own quirky tastes or personality traits.
The point is, there are always unique and interesting ways of framing your art. Framing it for wide appeal sometimes means doing something that people can't help but pay attention to. We're not talking publicity stunts or style over substance here. Instead we're talking about using what is naturally different about you and your tastes to draw people in and then your underlying foundation of strong music and art will keep them interested.
The best part? You don't have to worry about selling out! All the artists mentioned above are serious artists, extremely passionate about their craft, and not fly-by-night reality show products. They're professionals. To a cynic, their unique selling points may seem more like a novelty act, but peel back that initial layer and you'll see a depth to the music and also to the presentation.
Leverage Your Virtuosity
Not every musician possesses incredible talent and skill; but those who bring their unique approach to their instrument often get noticed in the digital age.
Think of Igor Presnyakov who has used acoustic covers to showcase his guitar virtuosity or Andy McKee, with his unique percussive guitar playing style. Both of these artists have racked up thousands of YouTube views per each video.
That's not all, even with samplers/drum machines such as Akai's legendary MPC or Native Instruments' Maschine, there is a lane for masters of their craft to be recognized. Thanks to his blistering finger-drumming videos, the name "Jeremy Ellis" is now synonymous with Maschine mastery and has parlayed this into several performances for the Native Instruments official channel and flying around the world to showcase Maschine as well as lucrative gigs supporting legendary hiphop band The Roots on tour.
Have you developed some impressive techniques on your instrument? Do you have something new to bring to the table, or can you collaborate with others to make a very difficult routine look simple, like Walk off the Earth and their five-person one-guitar interpretation of Gotye's "Somebody That I Used to Know"? Then why not make all those hours of practice work for you?
In short, the only limitation is your imagination.
Closing Thoughts
You've probably noticed that you can actually mix-and-match the strategies mentioned above. You could even blend them all together!
Creativity is a synthesis of ideas, and music is exactly that. You have your influences, your favorite artists, your mentors, and all of them put together is the unique package we call you. Bring your personality to the music you do. Start thinking about who you would be if you were an extreme version of yourself. Reach the pinnacle of you-ness, and you will find that discovery is a mere by-product of bringing your very best to the world.
Join our mailing list and we'll let you know when we publish something new